AT FOUR SEASONS HOTEL PHILADELPHIA, A HOLIDAY SEASON UNLIKE ANY OTHER
Embrace the season with festive décor, workshops lead by Four Seasons craftspeople, and a holiday marketplace only at Four Seasons Hotel Philadelphia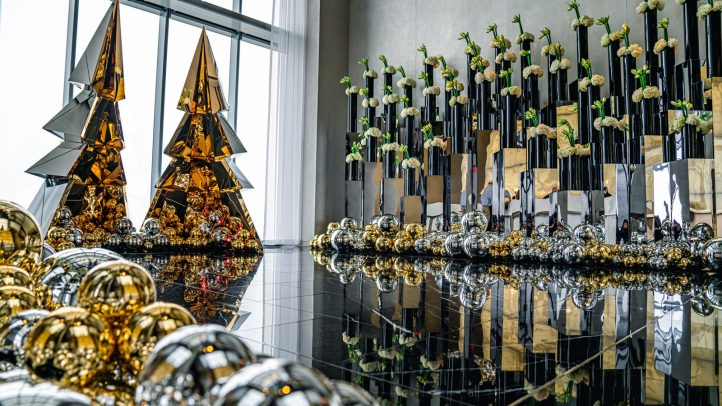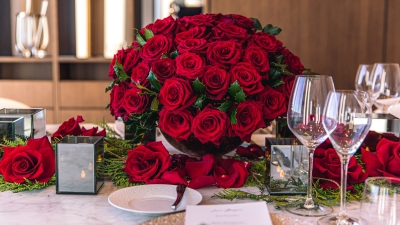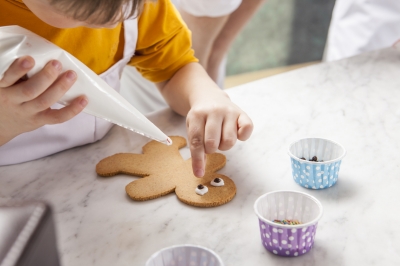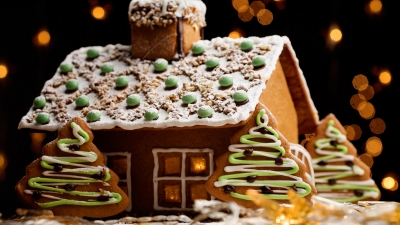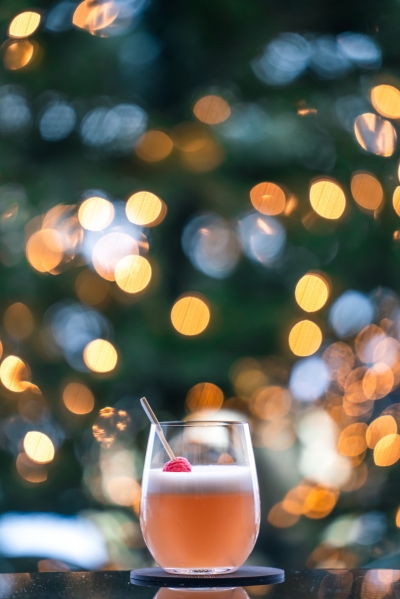 The holiday spirit comes alive with curated experiences and gift ideas for all at Four Seasons Hotel Philadelphia. Guests are welcomed into the ground and sky lobbies with a burst of Christmas trees, oversized ornaments and a modern reflective reindeer as part of Jeff Leatham's festive art installation. Floral displays enchant the sky lobby accompanied by tiers of baubles that reflects the gleam of Norman Foster's architectural space. Photo ambassadors are on-site to capture the moment and share digital photos via convenient and contactless methods.
Four Seasons Holiday Desk
Holiday must-haves are available at the Holiday Desk. Pre-order to pick-up seasonal favourites such as panettone, pies and takeaway orders from the Hotel's restaurants.
Give the gift of self-care with a gift certificate to the Spa – the only Forbes Travel Guide Five Star Spa in Philadelphia. Guests who purchase gift cards in-person for a minimum of USD 200 value will receive a LesRuches candle encased in a hand-blown glass jar and made with pure organic non-bleached beeswax (limited quantities, available at the Holiday Desk and in the Spa).
Four Seasons Hotel Philadelphia is proud to collaborate with Toys for Tots to host a toy drop-off box from November 21 through December 14, 2020.  Spread the love this holiday season by donating a gift for a child in need. Located in the ground floor lobby, guests can place their donations inside the handcrafted chocolate Yule log gift box created by Executive Pastry Chef Ryan Schmitt and the pastry team.
Stay for the Holidays
Create new holiday traditions with the Experience More offer. Guests receive a USD 100 credit towards restaurant or spa treatments along with preferred holiday availability to celebrate in one of the Hotel's restaurants from award-winning partner chefs Jean-Georges Vongerichten and Greg Vernick.
Get extra cosy with in-room holiday decorations and Christmas trees created by the Jeff Leatham team, who will take care of all the planning and decorating. From eggnog to bûche de Noël, guests are treated to holiday cheer from the in-house pastry team.
Holiday Workshops
From holiday décor with Team Leatham to decorating gingerbread houses to mixing craft cocktails, guests will create holiday magic with workshops led by expert craftspeople.
Holiday Décor with Team Leatham
Jeff Leatham Stunning Floral Centrepiece – Saturday, December 5, 2020, 11:00 am - Four Seasons has sourced the best materials – imported roses, holly and pine - to create a signature Instagram-worthy holiday centrepiece with #TeamLeatham. Floral Director Eduardo Verdi and team will guide guests through a step-by-step tutorial. Guests will walk away with a stunning floral centrepiece that includes more than four dozen red roses to bring the holiday season alive in their own home (a USD 440 value) and the ability to recreate it repeatedly to impress future table guests. Recommended for adults only– USD 300 per person, per arrangement.

Sugar & Spice – Pastry Classes
Holiday Cookie Decorating – Saturday, December 5, 2020, 3:00 pm - Gather the family for a holiday sugar rush with Executive Pastry Chef Ryan Schmitt and the pastry team. Learn the best cookie decorating techniques such as pipping and royal icing while trimming a dozen sugar cookies with holiday fondant accessories. Guests can enjoy hot chocolate along with their beautiful creations. Recommended for children 5 and over – USD 35 per child.

Gingerbread House Decorating – Saturday, December 12, 2020, 3:00 pm - Let the Hotel's pastry team do all the baking while guests do all decorating. Enjoy an afternoon of family fun trimming the perfect gingerbread house. Guests can enjoy hot chocolate along with their beautiful creations. Recommended for children 5 and over – USD 35 per person.
Buon Natale with Panettone – Saturday, December 19, 2020, 3:00 pm - Learn the secrets to making the perfect Italian panettone with Lead Baker Danielle Seipp, using authentic Italian ingredients such as Agramonte candied orange, lemon, and Sicilian pistachios.  The Hotel's expert bakers will show guests how to conquer this intricate sweet bread, including hanging it upside down to cool. Guests will take home their delicious creation. Recommended for adults only – USD 65 per person.
Savour the Season – Cocktail Classes
All cocktail classes will include canapés.
The Art of Craft Cocktails with Bluecoat Gin – Sunday, December 6, 2020, 2:00 pm - Using Philadelphia's treasured Bluecoat Gin, guests will learn the process of craft cocktail making with the Hotel's expert mixologist. Walk away with new knowledge on tasting notes, ratios, and types of ice to use for the best presentation. Ultimately, guests learn how to make their own variations on classic cocktails. Adults 21+ only – USD 50 per person.

Infuse & Pour with Stateside Vodka – Sunday, December 13, 2020, 2:00 pm - For the cocktail connoisseur, this class will teach guests how to create their own infusions and concoctions at home to mix into Stateside Vodka cocktails. Adults 21+ only – USD 50 per person.
Custom Cocktail Syrups with Widow Jane Whiskey - Sunday, December 20, 2020, at 2:00 pm - Syrups are one of those special ingredients that can completely transform a drink.  Learn how to easily make flavourful syrups at home to spice up an Old Fashioned. Adults 21+ only – USD 50 per person.
All holiday workshops will comply with physical distancing guidelines and each participant will have their own workstation. To comply with physical distance, each class will have limited number of participants. Participants will be asked to wear a mask during the event and will undergo a health screening and temperature check upon Hotel entry.

Click here to reserve a place at one or all of these holiday workshops.